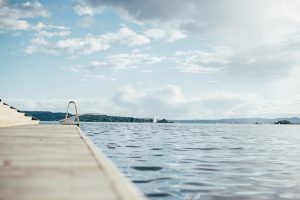 1. Surfing
Surfing is a sport for the free-spirited people of the world. Riding the breaking waves toward the shore on a surfboard is one of the most exhilarating experiences in the world of water sports. For some, it is a wonderful way to relax on a weekend. Others take it more seriously and spend a lot of time chasing ideal conditions all over the world for a great ride. With so many different scenic beaches on the planet, it is a sport that can be enjoyed far and wide. It is estimated that surfers only ride a wave for an average of 6 seconds and the best waves of their lives are only caught occasionally but this does not deter anyone from surfing. If you are new to surfing there are plenty of coastal towns with outfits that offer basic lessons. You will also learn the most important things to consider when surfing such as the three main types of breaks that affect waves and conditions which are reef; point; and beach breaks. Each one requires different a different level of experience and skill to master the art of surfing.
2. Kite Surfing
Kite surfing allows you to make use of the wind to experience the ultimate rush in water sports. This is an extreme form of surfing where the board is tied to your feet and a large kite is strapped onto your body. The exhilarating feeling comes when the kite catches the wind and you are propelled at some speed across the waves while controlling the direction with handles. Experienced kite surfers can achieve incredible speeds and perform tricks like flips and jumps. Beginners start off by controlling the kite first on the ground, then in the water, and ultimately riding a surfboard. Most surfing schools include the equipment needed so you can try it out before spending money on your own gear should you decide to take up the sport. Kite surfing is a thrilling water sport and once you have mastered the basics you can harness the power of the wind for a great adrenaline rush.
3. Sailing
Sailing is a water activity that can take many forms. Depending on the type of sailing, it requires various skills and experience to master this popular water sport. If you are the laid-back type you can choose to go sailing on a luxury yacht with a crew to do all the hard work while you languish in the sunshine. If you are more adventurous you can join a crew for a regatta experience where you will learn all the ins and outs of sailing on the water. If your sights are not set that high, there is always the option of taking to calmer waters in a small two-man boat alone or with a partner. A Hobie Cat is another great way to dip your toes into the world of sailing. If sailing becomes an experience you love you can join a sailing club for regular involvement in sailing events and increase your experience by learning from more experienced sailors. For any Sailing enthusiasts reading this article I would highly recommend that you take a look at Wickenroy Pavitt and their range of boat cockpit cushions.
4. Flyboarding
Flyboarding is a relatively new type of water sport that provides a fun and thrilling experience. Fly high with a high-powered form of propulsion that launches you up to 80 feet above the water attached to a hose that connects to a second watercraft, usually a jet ski, that provides the propulsion through the board. Flyboarding is easy to learn with some surfers taking only ten minutes to learn the basics. Once you are more experienced you will be able to swoop, dive, flip, scoop, and fly through the air feeling like a proverbial superhero or a total badass, whichever takes your fancy.
5. Jet Skiing
This great water sport will get the sea spray in your face and the wind in your hair on a powerful watercraft that can tear through the water at breakneck speeds. Hire locations to offer guided adventure tours or you can take it easy with a more leisurely pace. This is a great family activity as kids can ride tandem on the craft with an adult. Some locations require a boat license to hire a jet ski but it won't be needed if you join a guided tour. Check the specific requirements before setting out to prevent any disappointment on your day out.